Liquid Memory
Site specific installation 2018.
Liquid Memory was inspired by the mikveh – the Jewish ritual bath – that was rediscovered in the Ashkenazi synagogue when it was converted into the Jewish Historical Museum in the 1980s. The exhibition explores the evolution of the Jewish bathing ritual from natural caves to tiled floors, creating non-linear connections between Amsterdam's seventeenth-century mikveh and archaeological sites of mikvehs in and around Jerusalem that date back 2000 years. In the work Liquid Memory we wanted to interweave the past and the present through contradictions. In a video work we combined for example, Neolithic masks from 9000 years ago with current ritual bathing ceremonies of Orthodox Jews in Jerusalem's public water springs. Next to this video we placed a Kinetic sculpture of a hair wig immersing in water. Hair has long been a symbol of the "cultivation of woman".

Furthermore in judaism hair is considered a connection between what is living and what is still.

The work was created together with Izek Mizrahi, commissioned by Curator Sara Tas and shown at the the Jewish Historical Museum Amsterdam 2018.

Special thanks: Stephan Kuderna.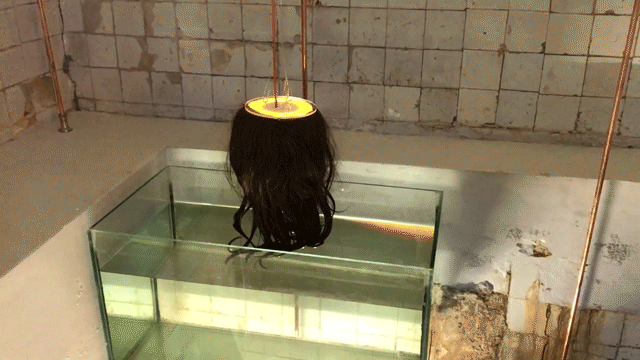 Lifta – Mei Neftoach, video still, 2018 from Yitzhak izek Mizrahi on Vimeo.