ManHandled
This space is not mine, to stay in. There were many before. And the ones coming are already here, checking the light for placing there plants. These artifacts are yours. For others to marvel. Safe and stored, reminders of the days when art was spiritually charged. How it must feel, to create a work crafted so fine, that people can't resist but touch it ? And they do it with such passion that it polishes the stone abstracting its form.
For Manhandled I worked with artifacts from the Rijksakademie's historical art collection, specifically ones that depict scenes from the holy land. After claiming the artifacts I created kinetic apparatuses that give an allusion of almost destroying the original works (works that date back to the 17 century). The aesthetics of the work was defined by the negotiation between the safety regulations of treating an artifact and my desire to destroy it. This violent action was aimed at evoking the feeling that when something is being destroyed its value becomes apparent. Throw this action the work addresses the collective cultural memory of barbarism.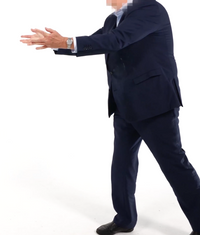 The The work was made in collaboration with:
Digital image and video : Yitzhak Mizrahi,
Library Collection guidance : Marietta Dirker,
Moldmaking : Anthony Seqard and Boyd de Jong.
Construction : Stephan Kuderna and Oded Rimon,
Electronics : Kees Reedij,
Print : Pieter Verweij,
Wood : Roger Cremers and Seamus Cater,
Produced in the Rijksakademie van beeldende kunsten 2017.